The complex regulatory, product, and service environments, along with the recent financial crisis, have increased the demand for greater skills and diversity in the financial services industry.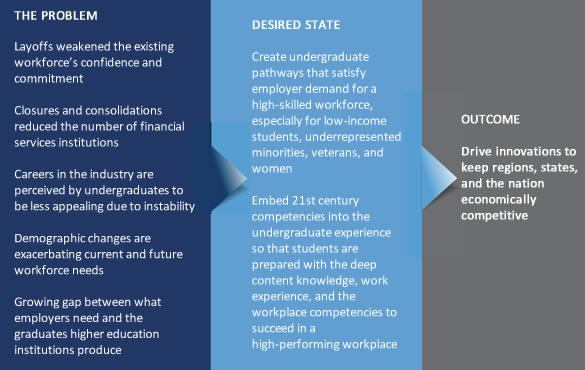 To address this need, BHEF and the Business Roundtable launched the Financial Services Industry Workforce Project. Through this effort, BHEF and the Business Roundtable will use research and consultation with industry leaders, financial services organizations, and higher education institutions to:
Prepare a diverse workforce well trained in cybersecurity, data science and analytics, risk management, and social and mobile technologies demanded by the financial services industry;
Create opportunities for low-income students, minorities, women, and veterans; and,
Incorporate 21st-century competencies—such as critical thinking, problem solving, analytical reasoning, communication, and working in multi-cultural teams—into the undergraduate experience so that students are prepared with the knowledge and experience to succeed in a high-performing workplace.
The Financial Services Workforce in New York City

Beginning in New York City, BHEF and the Business Roundtable will use five business "levers"—c-suite leadership, philanthropy, employee engagement, core competencies, and funded research—to improve undergraduate educational outcomes and workforce alignment in disciplines critical to the financial services industry.
In order to execute this project, a leadership group of BHEF and the Business Roundtable financial services CEOs (see sidebar for the list of CEO Leadership Group members) provided guidance and access to key staff to explore how innovative undergraduate programs can create a better-skilled, more-diverse workforce for the investment, banking, insurance, and services sectors. The New York City financial services project will provide benefits to respond to the unique challenges facing students, higher education, and business.