The U.S. STEM Undergraduate Model: Applying System Dynamics to Help Meet President Obama's Goals for One Million STEM Graduates and the U.S. Navy's Civilian STEM Workforce Needs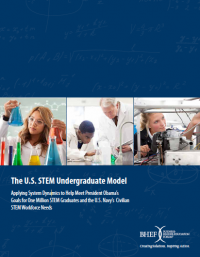 This report shows how insights gained from system dynamics modeling and the U.S. STEM Undergraduate Model® can help inform the Navy's strategy to grow a robust civilian workforce that is strongly invested with Navy-relevant STEM skills and ready to contribute to the next generation of Naval innovation. This work positions the Navy to serve a strong national leadership role in advancing President Obama's goals in STEM precisely while it enhances Naval STEM capacity. That powerful synergy is doing much to advance important improvements in the shaping and execution of the STEM education pathway.
The literature review for this report can be found here.
More information about the model can be found here.
You can run the model on Forio.com here.

BHEF_2013_stem_undergrad_model.pdf