Creating the Future Workforce Today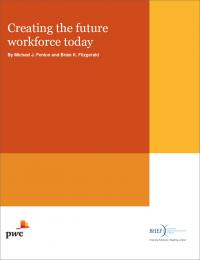 Companies and academic institutions have a shared responsibility, as well as economic and social incentives, to help close the digital talent gap and build a workforce that is ready for the future. 
This report examines how leaders in business and higher education can continue to collaboratively build an adaptive, inclusive and sustainable workforce for the 21st century innovation economy. It gives an overview of the educational and workforce trends disrupting our economy and society and shares examples of efforts from business and higher education to equip employees and students with Digital Age skills, while promoting greater diversity, equity and inclusion. The report closes with recommendations and a call to action. 

2021_PwC-BHEF-Report2.pdf