Future Skills, Future Cities: New Foundational Skills in Smart Cities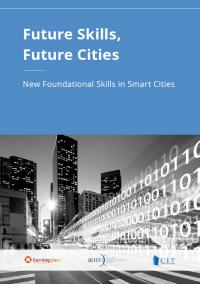 In recent decades, communities across the globe have been transformed by the spread of technology to all corners of life. This transformation has extended to the world of work and has disrupted the skills that workers must develop to remain competitive.
In a 2018 special report, The New Foundational Skills of the Digital Economy: Developing the Professionals of the Future, BHEF commissioned Burning Glass Technologies to identify the skills that form the foundation of the new digital economy. An examination of more than 150 million unique U.S. job postings revealed 14 New Foundational Skills that converge around three interrelated groupings: Human Skills, Digital Building Blocks, and Business Enablers.To fully grasp the impact of these new skills, however, it is necessary to look beneath broader economic trends and investigate how these skills are affecting communities at a local level. This report aims to do just that by turning the lens on a specific cohort of communities that are pioneers of the new digital economy: smart cities.

report_2019_bhef_smart_cities.pdf