How Skills are Disrupting Work: The Transformational Power of Fast Growing, In-Demand Skills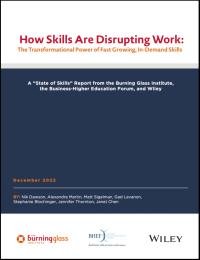 How can today's learned skills impact an individual's earnings 20 years down the road? The Burning Glass Institute and BHEF recently investigated today's rapidly evolving job market and its most sought-after skills, offering a blueprint on preparing for future success.
Sponsored by Wiley, this state of skills report analyzed hundreds of millions of job postings from 2015 through 2021 to track critical changes in the job market. It found that one in eight job postings now requires one of the four skills that are growing the fastest and spreading the most rapidly across sectors.  Together, these four emerging skills—Artificial Intelligence/Machine Learning, Cloud Computing, Product Management, and Social Media—unlocked 2.6 million job postings last year, with demand growing almost seven times faster than the job market overall. 
Share your informatin to gain access to the State of Skills report.