Improving Education Through Collaboration: A Case Study of the Long Beach Seamless Education Partnership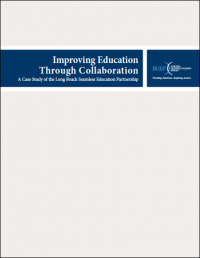 Across the country, cities and regions have used cross-sector collaboration by business, higher-education, P-12, and community leaders to improve education. Although regional leaders take different approaches to this challenge, the most successful communities engage all sectors and align their efforts around common goals. Together, these communities identify keys to community vitality, shape dynamic and sustainable networks, and develop systemic solutions that help enable the region to attain its economic, educational and social goals. The best established of these efforts have made substantial gains along key education indicators.
To better understand what makes these collaborations successful, and to support its members in leading similar efforts, the Business-Higher Education Forum (BHEF), with generous support from GlaxoSmithKline, has undertaken a case study of one established effort—the Long Beach Seamless Education Partnership. Launched in 1994 by local civic leaders to ensure that all students would progress smoothly through the education systems and into the workforce, the Long Beach Seamless Education Partnership (the Partnership) has become a defining feature of the community and a model for the nation.