Learn and Earn: Modeling the Success of Metropolitan College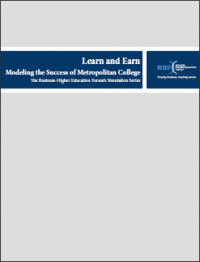 With increasing frequency, leaders in higher education, business, and government are calling for expanded educational opportunities to improve the skills of the U.S. workforce. "Learn and Earn" programs offer one channel for ameliorating some of the challenges that are of concern. Learn and Earn programs involve partnerships between postsecondary education institutions and employers to provide opportunities for adults to attend college while maintaining their employment.

One such example is Metropolitan College, an educational partnership founded in 1998 among United Parcel Service, Inc. (UPS), the University of Louisville, Jefferson Community and Technical College, the Commonwealth of Kentucky, and Louisville Metro Government. This report summarizes a project undertaken by BHEF that used a system dynamics modeling approach to understand the factors and describe the results that led to the success of Metropolitan College. The findings show that after Metropolitan College was introduced, employee demographics at UPS changed to reflect a better educated and more experienced workforce. In effect, Metropolitan College appeared to serve as a tool for attracting and retaining employees at UPS. The changing employee demographics resulted in financial benefits to UPS and the program saw a 600 percent return on investment.

BHEF_2011_learn_and_earn.pdf