Workforce Partnership Initiative Case Studies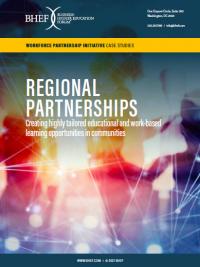 In 2018, BHEF and the Business Roundtable joined forces to create the Workforce Partnership Initiative (WPI). The initiative invited Business Roundtable CEOs to form multi-company partnerships and connect with leaders of postsecondary institutions to meet regional workforce needs. Dozens of CEOs responded, and the JPMorgan Chase Foundation awarded BHEF a grant to support nine WPI projects around the country.
These case studies cover five of the nine partnerships: Chicago, D.C.-Maryland-Virginia, North Carolina, New York City, and the Southeast. The publication details the highly tailored educational and work-based learning opportunities created as part of the initiative, along with the unlikely partnerships and new curricula and apprenticeships. 

BHEF-2020-WPI_CaseStudies-MASTER-2021-v3.pdf